Dog Box Specifications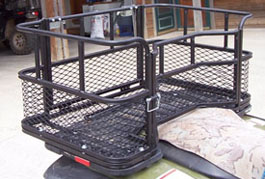 Order Your Box!
Starting at $454.95 + s&h
Dog Box Specifications

Width
38"
Depth
24"
Height
14", 16" and 18" available
Weight
≈ 44 lbs
Interior Width
36.5"
Interior Depth
24.5"
Tailgate Opening
21.5"
Front Opening
21.75"
Materials
3/4" tubing and steel mesh
Mounting System
Mounting system differ by make and model. See FAQ for details.
Canine & Cargo Carrier
The Canine & Cargo Carrier is designed to mount as far forward as possible on the atv. This helps to keep the machine as stable as possible, minimizing the amount of carrier that extends over the back, and still allows plenty of storage area.
The Dusty Dawgs, Inc. Canine & Cargo Carrier features a tall front piece, which helps to keep your pet or cargo load from slipping forward, especially when traveling down hill or over rough terrain. It is also removable by simply taking out one pin, which allows you to access the area underneath the seat without removing the entire carrier. Hunters, farmers, ranchers, construction projects, and recreational users will appreciate the ample storage area with tall sides that prevent loads from shifting or falling out. The drop down tailgate allows for easy loading and unloading.
The Canine & Cargo Carrier is easy to assemble, and attaches to the atv rack in minutes.
Do your pet and yourself a favor and order one today!